Waste Oil Heating Systems
Clean Burn
Clean burn is the undisputed world leader in top-quality waste oil heating solutions.
Click Here to learn about and sign-up for our Clean Burn Maintenance Program!
With Clean Burn waste oil boilers and furnaces, incomparable engineering meets impeccable quality to deliver outstanding results. There simply are no better waste oil heaters on the planet, period. Made with ultra-efficient and durable Carbon Steel, these units deliver performance that lasts. Plus, Clean Burn products are environmentally-friendly and EPA-approved.
Clean Burn waste oil boilers and waste oil furnaces aren't just set apart by their exceptional quality; they're also the most versatile waste oil heaters on the market. These exceptional machines are capable of using waste oil from a wide range of vehicles, including cars, trucks, and heavy equipment. Moreover, they efficiently and effectively boil and burn a variety of petroleum-based and synthetic waste oil types, such as crankcase oil, standard fuel oil, hydraulic fluid, and transmission fluid.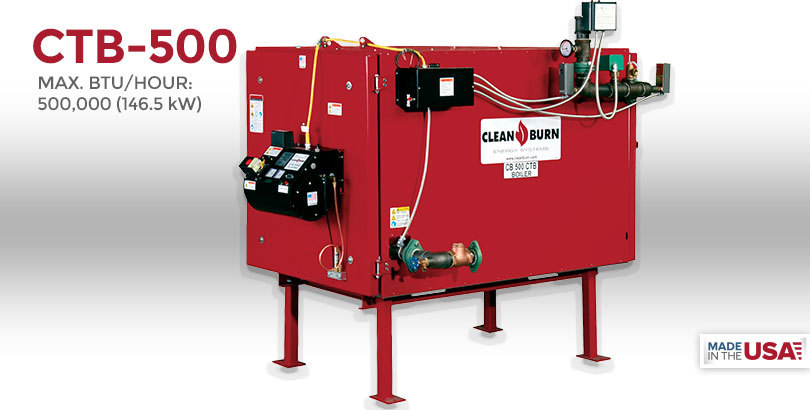 Clean Burn CTB-500
Packed with features, this waste oil boiler was engineered for high efficiency and low maintenance. (Think only 30 minutes of cleaning per 1000 hours of operation!) Clear Burn also made this unit with ease of installation in mind: it can be used as a single unit or as part of a system when combined with other CTB-500 units.
Performance of this top-of-the-line waste oil boiler is outstanding: its input is rated at 500,000 BTU/hr with an output rating of 372,000 BTU/hr and is UL listed for central heating systems.
Clean Burn Oil Recycling Centers
Clean Burn has developed these best-in-class oil recycling centers to work in conjunction with their waste oil furnaces, creating a seamless integrated system for the storage, collection, and generation of heat. Designed for efficiency and ease of use, this innovative Clear Burn Oil Recycling Center combines a tank and furnace, a solution which aids in both oil handling and heat generation.
These Recycling Centers integrate easily with most Clear Burn models, and come with a 215 gallon storage tank.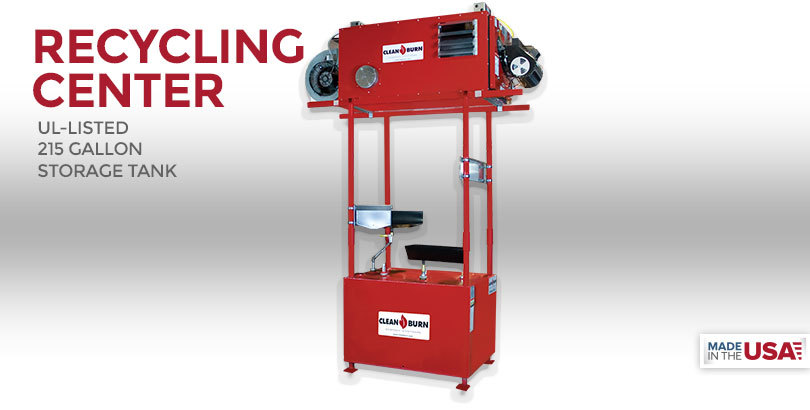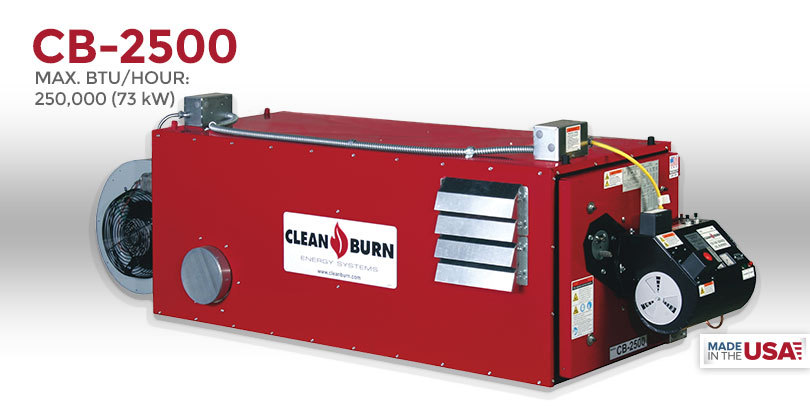 Clean Burn CB-2500
This powerful but efficient waste oil furnace was manufactured with reliability and versatility in mind. Mount it to the ceiling with ease, or use it in concert with one of our Clean Burn Recycling Centers. Either way, you'll get exceptional value and reliability: the CB-2500 is fabricated from the ground up with durable and efficient carbon steel.
Because the CB-2500 produces an impressive 250,000 BTU/hr, facilities such as auto repair and service shops find this model is perfect for their needs.